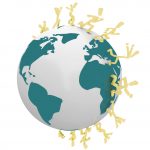 We continue to wait for the BIG up move in precious metal prices. We are looking for the gold price to breach the $2012 per oz level to the upside.
Keep in mind the the miner stocks have have way under performed as compared to the uptrend in physical prices. That paradigm is about to change drastically. You do not want to miss the coming explosion in miner prices!
In the meantime we have for your enjoyment a look at all the insanity going on in the world, posted links automatically provided. Consider how all this chaos will drive the prices to levels never seen, considered, or even believed.
My posts can be selected from the listed posts for your enjoyment.
Also here is a list of Mining Stocks that you will want to arm yourself with for the upcoming ride of a lifetime.
More announcements will be forth coming.
–Max